Home » Pet Cat Hair Makeover Salon ?? APK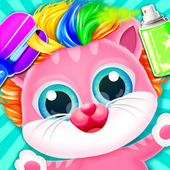 Pet Cat Hair Makeover Salon ?? Additional Information
Latest Version:

0.4

Publish Date:

2019-12-10

Requirement:

4.1 and up
The Description Of Pet Cat Hair Makeover Salon ?? APK
Cats and kittens love to look beautiful ??. Run your own animal pet kitty hair salon to help your cute baby pet cats for their hair makeover. WELCOME to your pet kitty beauty hair salon !

Are you ready for new furry adventure in beauty hair salon? YES? Meet first with your fluffy kitty clients in your animal kitty hair salon and help them to get their dream hair ?.

Wash, dry, brush, straighten, curl, color and style your lovely pet kitty client's hair now! Dress up the little animal cats in beautiful trendy clothes for amazing look.

So, let's start pet kitty hair makeover in pretty hairstyle salon. Being a hair beauty stylist it's your duty to satisfy your fluffy pet kitty clients.

Fluffy cat is ready for her complete hair makeover. Give proper setup to lovely pet cat with all hair accessories at your beautiful hair makeover salon.

Lovely pet kitty hair is so messy! Wash the cat's hair first with shampoo and then dry it with dryer ?. Comb kitty's hair and cut her long hair. Give beautiful shape to pet kitty hair with using straightener and curler.

Go wild with those hair colors! Purple, green, blue, red and many more ?. Dye the kitten's hair and make beautiful hair styles. It's time to choose classy outfit for little pet kitten. Ooo wow ?! Cute baby pet kitty looks rocking in this makeover.

Make fun beauty photos for fluffy animal pet kitty ?! Install now!

Features:
? Many cute pet kittens come in your beauty hair salon for hair makeover.
? Wash cute baby pet cat's hair with shampoo.
? Dry the pet kitty hair with dryer.
? Cut the Kitty Pet Hair by scissor.
? Create amazing and crazy hairstyles to pet cats with straightener and curler etc.
? Unique hair colors for baby pet kitty beautiful silky hair. Make highlights or dye her hair.
? Dress up lovely pet cats in trendy outfits with glasses and caps.
? Capture that beautiful moments of fluffy kitty.
? Play like a beauty hair stylist.
Similar to Pet Cat Hair Makeover Salon ??